Guarantee of Health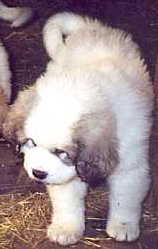 We at Milk & Honey Farms aim for excellence in the selection, breeding and care of all our dogs and livestock. We have observed the fine health, well-being and superior reproduction results obtained by good nutritional practices. You, the new owner, are reaping the benefits of our endeavors.
We have observed that Boomer Bear and Honey Bear* are in excellent health and free from genetic defects. We have observed that the parents of both Boomer and Honey Bear are in excellent health and free from known genetic defects.
With great confidence, we state that the male* Great Pyrenees puppy born on June 21, 1998* of Boomer and Honey Bear, is in excellent heath and free from genetic defects. All worming medications are current.
Based on our observation and experience, we guarantee the health of the male puppy to be free from genetic defects for a period of one year from the date of birth. The following conditions must be met for the guarantee to remain in effect:
The guarantee applies only to the original purchaser of the puppy.
The puppy receives veterinary care at periodic intervals to include regular checkups, worming, heart-worm, the continuation of the vaccination series already started.
The puppy receives daily rations of quality food and fresh water such that it is well nourished and resistant to sickness.
The puppy is housed in a suitable shelter typical for its breed and protected against extreme weather conditions.
Should the unlikely event of some genetic defect occur within the guarantee period, the owner should contact us immediately. After the dog has been examined by a veterinary doctor of our choosing and that doctor confirms that genetic defect and the dog has been returned, we will then replace the animal or refund the purchase price at our discretion.
* The sex, name of parents and dates change to match your puppy.
End of main content.